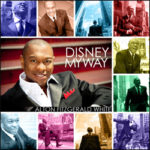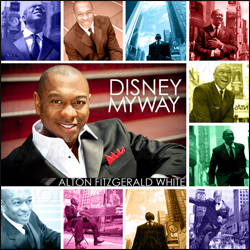 The following are the liner notes for Alton's latest album, Disney: My Way!. They were generously written by Thomas Schumacher, President of the Disney Theatrical Group.
return to Disney: My Way! page
---
Listening to Disney: My Way! is, for me, a visit with old friends.
First up, of course, is the spectacular Alton Fitzgerald White—actor, singer, and gentleman. A long-time member of the Disney Theatrical family, Alton is well known to our audiences on Broadway, in Las Vegas, and across America as King Mufasa from The Lion King. He is an actor of extraordinary craft, and is blessed with a stunning voice.
Alton is joined on this collection of songs by the great Jim Abbott, who has guided the music on Disney projects in New York and around the world, including Phil Collins' Tarzan and Elton John & Tim Rice's Aida. His arrangements and orchestrations heard on this recording are spot-on.
And finally, my friends represented here are the songwriters, and their songs, to which Alton brings his fresh and surprising take.
I have been privileged to work with each of the songwriters represented here—Elton John, Tim Rice, Alan Menken, Julie Taymor, Lebo M, Mark Mancina, Hans Zimmer, and Richard & Robert Sherman.
I'm probably one of the first five or ten people who ever heard a number of these songs when they were written. Each, of course, has its own story.
"Fortune Favors the Brave" was written at the last minute, when story changes on Aida demanded a new opening—and Elton and Tim complied with a fantastic new number that was orchestrated just in time for the first preview on Broadway. At the other extreme is Phil Collins's "Strangers Like Me" from Tarzan, which was almost a touchstone from which the rest of the project found its soul.
Some are hugely well-known, like the #1 radio hit "A Whole New World" from Aladdin, and some are known to only a few, like the gorgeous "The Long, Long Day" from the oratorio King David.
I first heard "Feed the Birds" when I went to the premiere engagement of Mary Poppins at the legendary Grauman's Chinese Theater on Hollywood Boulevard in late 1964. While every other kid in America was singing the upbeat songs the Sherman Brothers introduced in that film, for some reason I was a small child humming the old Bird Woman's plaintive cry in the back of the family station wagon. Forty years after that, I was right there with Bob and Dick Sherman for the re-introduction of that song when it arrived on stage.
Nothing stays longer on the mind than melody, and the melodies included in this recording will become friends of any listener—as will Alton, who delivers them with so much love.
Thomas Schumacher, President
Disney Theatrical Group
New York City
July 2012